Welcome to BetFan's managed service... "The Judge!" An action packed Greyhound Racing Club that specialises in the open races that carry the bigger prizes and home the stronger of the races.
If you've ever wanted to experience beating the bookies at the races and landing the ready cash now is the time to get involved. You only have to look at all the winners above to see the potential of this. In fact, all those winners were within a 4 week period where we smashed in over 147 points profit!
This isn't unusual, whilst the service has evolved the origin and fascination in Greyhound Racing goes back to teenage years and an addiction to the fast paced action and the thrill of seeing people finding the winners and pocketing the cash!
Yes, mistakes were made along the way, the biggest of them all was not gambling to win for the long term. However a change of mindset in the early years made those involved look at the bigger picture and how greyhounds could make a super income.
Now we would be lying if we said making the sport pay didn't require lots of hard work and dedication. It does, and continues to do so, it's a full time job for Rad the current leading advisor but he loves every single minute of it!!!
The Judge Is Unleashed...
The service now has the intelligence, experience and contacts to really make tidy profits.
Does that appeal? You bet it does!
Who wouldn't want to win that sort of cash off the bookies?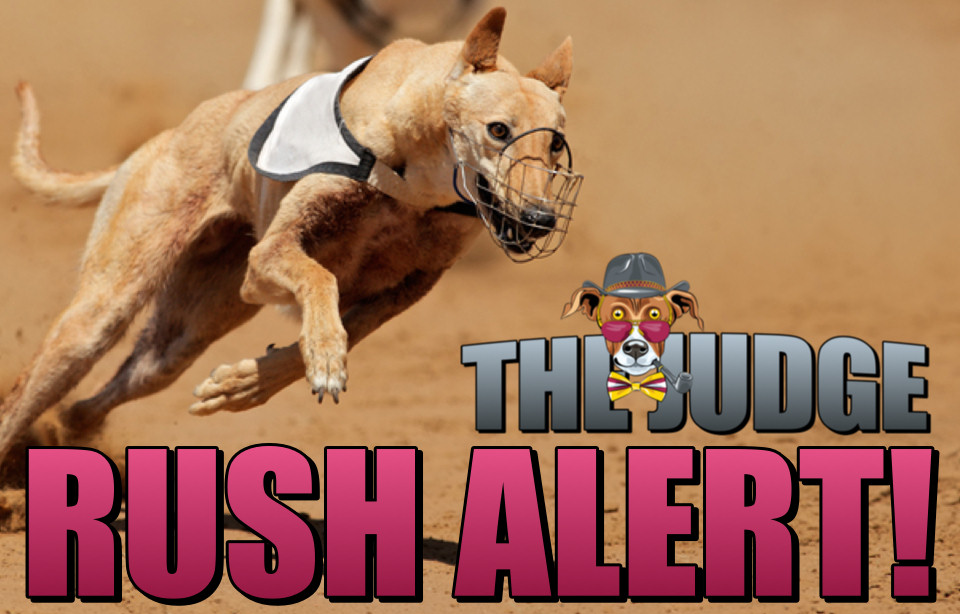 Anyway, the reason you're here today is to learn about the service and whether it's a worthy addition to your portfolio.
However before you make that decision the most obvious question from recreational punters is that if this is making exceptional profits why on earth would we want to share?
Well the two main reasons for this are (a) to feed the ego of Rad who currently leads the service and (b) to get back at the bookies. It's like a kick in the balls when the greedy ones run scared and close your betting accounts.
Well now we wants revenge by creating an army of followers!!!
Do YOU Want To Join In The Fun?
With winners like this who wouldn't...
Laughing Gravy - Won At 9/4
Wiki Waki - Won At 5/2
Vatican Ragner - Won At 3/1
Comrades All - Won At 9/4
Kilara Razz - Won At 3/1
Franks Dream - Won At 7/4
My Mate Max - Won At 4/1
Highview Hand - Won At 3/1
Marmalady - Won At 3/1
Droopys Story - Won At 9/4
Janoan - Won At 4/1
Astra Prince - Won At 6/1
Sky TV Coverage...
Now with Sky Sports and their excellent coverage of all the best Open Races in the Greyhound Calendar along with the advent of Racing Post Greyhound TV on Ch. 212 on Sky, this has enabled us to really strike fear in the bookmakers.
RACING POST GREYHOUND TV
LIVE: SKY 212 & FREESAT 401
Wednesday to Saturday: 7.15pm to 10.45pm
Sundays: 6.15pm to 9.30pm
The edge that this TV coverage gives is that we can work out our tissue price for the races along with selections. If we spot any of the bookies have made an error in pricing a Greyhound up, then we jump in and strikes hard.
It's all about the best value, if we know a dog will start shorter than the morning price, then we as a team step in and take full advantage.
Be Warned - Places Are Strictly Limited!
No Experience Required!
By joining me you'll get all of my selections, the very same as I'm betting on personally.
We'll do all the hard work and then let you know each day exactly what to bet on.
You don't need any experience whatsoever. Simply back the dogs we say and keep all of the winnings!
So How Do You Get Started?
When you're ready to try the service simply click on one of the buttons below.
The great news right now is that we've launched with a very reasonable prices of just
Here are your subscription options:
But please be aware we can't guarantee that these prices will remain for long so now is the time to act!
The profits speak volumes so don't hesitate a moment longer!
Click on your preferred membership option below and start making an exciting new income!
Sorry, This Service is currently at maximum capacity. If you would like to be notified when a space becomes available, please complete the form below.
Thank you for your time and interest we look forward to welcoming you on board very soon.