Welcome to The Speedster
If you're as passionate about the amazing Sport of Kings as I think you are then you'll be thrilled with the service that I can supply to Speedster members.
My mission is crystal clear... it's to help Speedster members make an exceptional and profitable new income from the sport they love.
If you agree that there's nothing better than the exciting amount of cash that sports betting can provide, then you're certainly in the right place at the right time!
I am a passionate racing professional with 30 years experience and I want to assist you in making your horse race betting pay much bigger and more consistent profits. It's the dream of every punter out there.
Super Profits From Part Time Fun!
I was brought up in a horse racing mad house from a very young age with many a time spent on the course with my Race Crazy father and his mates. When I watch the races I spend most of the afternoon studying the horses and over the years my passion just grew and grew for the industry along with my knowledge and ability to pick winners.
I now have a wealth of experience when it comes to racing and backing horses and I have built up many contacts to enhance my detailed analysis. Moreover I am one of the few people in racing who knows exactly what to look for when studying race horses.
Over three decades I have built up a network of contacts and converse with some of the best in the game. I collate as much information as I can but I still rely on my own knowledge when assessing betting opportunities. This is why I win and so will you too if you join me.
I say all this to let you know I'm not just an average punter who has decided to set up a service! If you're going to risk your hard earned cash betting you really should know about the person advising you.
Why Join Speedster?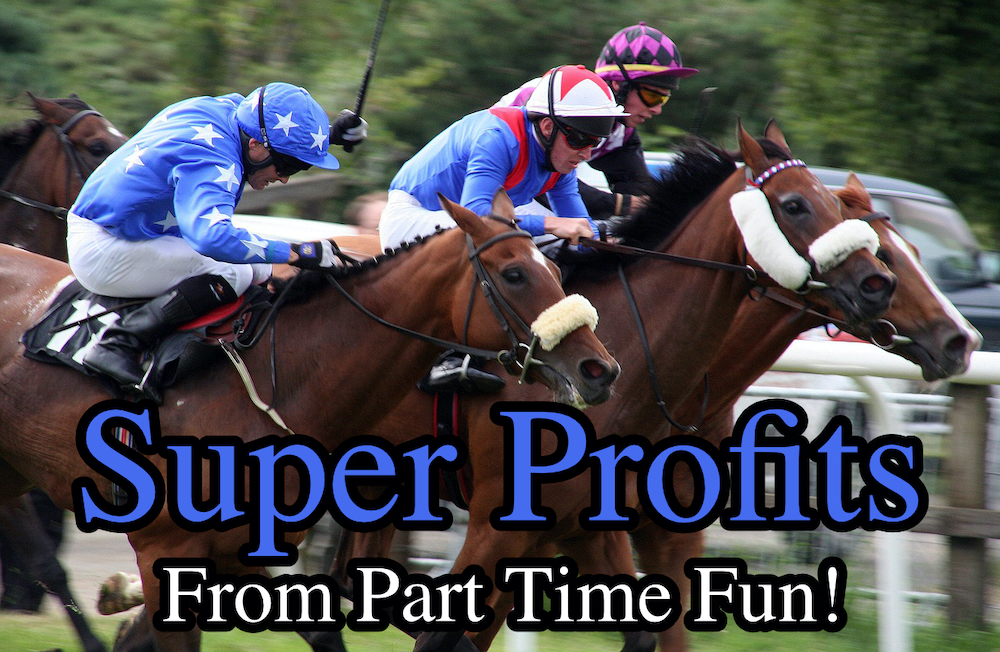 Well often the best horse at one track isn't always the best horse at another track and the bookies will price their selections up based on previous form and in many cases not taking into account the many variants a different track can provide. This is where I score best with my inside knowledge allowing me to find the value in selections.
I feel that I have built up more than enough knowledge over the years to read a race and through reading form, ground conditions, handicap/speed ratings etc I have a good idea what horses are going to go close in each race that I have an interest in.
There's nothing better than finding a decent priced horse in a big race that so called professionals haven't tipped.
Many of my bets are Each Way - I prefer to look for these type of bets, don't get me wrong there's nothing wrong with picking favourites but I don't get the same satisfaction of picking something every other tipster is picking unless it's one I really fancy myself.
When I bet I do have Each Way singles but also like doing multiples as well depending on the number of selections which is usually between 2 and 4 a day.
I'm one for steady, consistent profits but when I occasionally spot a Jackpot opportunity I most certainly share it with my members.
Welcome To Speedster!
I am setting out to provide fellow punters with one of the most consistently profitable betting services available. I will be providing bets most days of the week so there will be no time for boredom to set in.
I will be tipping both Win and Each Way bets and my aim is to maintain a decent strike rate and a great return on investment.
The key to my success is being on the right horse at the right time! I work relentlessly to assess where a horse should be placed and then watch for it to get its optimum conditions.
How do I find the selections? By sheer hard work and by using my Handicap figures, Speed figures, ground conditions and top information that I get from people I respect in the industry.
Before launching I was proofing to an audience on Tipster Planet. After smashing the competition and making over 450 points profit in just a few months I was contacted by the owners requesting the launch of this official service.
Now It's Time For Action
Click on the preferred subscription option below to get started ASAP!
Best Value
Price Slashed
Monthly
Renews every 28 days at £37.50.
Next Payment due 1st Nov 23
You can cancel at any time.
Best Value
Price Slashed
Quarterly
Renews every 90 days at £105.00.
Next Payment due 2nd Jan 24
You can cancel at any time.
Best Value
Price Slashed
6 Monthly
Renews every 6 months at £178.00.
Next Payment due 4th Apr 24
You can cancel at any time.
Please Note: All prices are exclusive of VAT. Purchases made from EU countries will be charged VAT at the relevant rate.
Thank you for your interest in Speedster I look forward to sharing my highest quality tips over the coming days, weeks and months ahead.