Welcome To Super Lucky 15
Hello and welcome to Super Lucky 15! I'm a massive racing fan and I certainly like a daily punt. However, I'm different to the mainstream advisor because I specialise in the "Lucky 15, Lucky 31 and Lucky 63" using a secret selection strategy that's bringing me great success.
My race betting career that spans more than 7 years has seen me backing, placing and laying but then I had an "Eureka Moment" that when applied to the "Lucky 15" multiple betting option blasted my racing profits through the roof!
My most memorable moment being when I got a cool £28,000 Lucky 15 come in. I also had a few friends on it and it's a day they'll never forget.
My Super Lucky 15 Betting Club
I recently contacted the guys at BetFan with my idea of a "Super Lucky 15 Betting Club" in eager anticipation to share my winning ways with others only to be told I would have to prove it works over a fair period of time before they'd consider making it available to their members.
So at the start of July 2016 I started sending my daily Lucky 15 tips. A selection of 4 horse racing events. The Lucky 15 bet includes 4 singles, 6 doubles, 4 trebles and 1 fourfold.
Don't worry if this appears to be a bit of speciality bet you're not used to because I'll certainly look after you. It's really easy!
So, I proofed my selections over a solid 90 day period and the formula worked in spectacular fashion by delivering a mouthwatering +267.53 Points Profit!
THAT'S +6425.42 POINTS BETWEEN JULY 2016 AND AUGUST 2019
Is your horse racing provider giving you this kind of profit?
I highly doubt it!
My "TOP SECRET" selection process identifies the very best value, quality and it certainly delivers the profits!!! Yes I have losing days but the very nature of the multiple bet means winning days are very healthy indeed.
Again, I've been on the receiving end of a jackpot £28k so I should know!
If the thought of jackpot pay days appeal then don't delay! Even if you're only a £5 or £10 point bettor then this should really open your eyes to an incredible addition to your racing portfolio.
Is Super Lucky 15 A Service For You?
Well if you've never been involved in a Lucky 15 bet I can tell you they're Extremely Fun, Exciting and Very Entertaining!
It doesn't matter if you're brand new to the bet as my welcome message will explain all, sort out a dedicated betting bank and fully explain the bet. Again it's real easy and with the super profits I'm sure you'll grow to love it!
Hitting The Jackpot With Super Lucky 15...
You have to be in it to win it... Look at the comments below sent in after a MEGA WIN of over +2,700pts for myself and members on Tuesday 13th June 2017...
"Please would you pass on my congratulations and massive thanks to James of the Super Lucky 15 service. I've been with this service since last autumn so had a few close ones but nothing like today - outstanding tipping. Thank you."
"Great tips today - I won £400 off a £9.30 bet. (Shame Dettori's was a non-runner) Keep up the good work."
"Great result!!! first time I've ever got the right side of a stewards. Keep up the good work you've been close a few times shame about the non runner as it was a 31 I halved the stakes!!"
"I only do a Yankee not a Lucky 15, I'm small time - my bet was only 20p! 0.20p Super Yankee = £5.20 Total stake = £546.05 Total Return"
"Just want to say I love this service and have been with it from the very start never lost faith as on numerous occasions have gone very close to winning big and yesterday finally repaid me from a £2 L31 I won £5,560 the most I have ever won in my life. I don't have proof as I put my bets on in my local shop and this morning I picked up my winnings. Me and the family will be going on a lovely holiday this year now and its all thanks to James who runs this service. This service is the best I have ever used and will be a member for life and I know for a fact that the next big one is only round the corner. Please can you pass this onto James and tell him Thank you so much for everything. Many thanks Paul."
Members Even Sent In Screen Shots of Their Winnings...
UPDATED! 26th September
Hi just like to say well done to the Lucky 15 team, only joined last weekend, using small stakes at moment,
still made over £500 ,this will help my betting Bank alot thanks again
Paul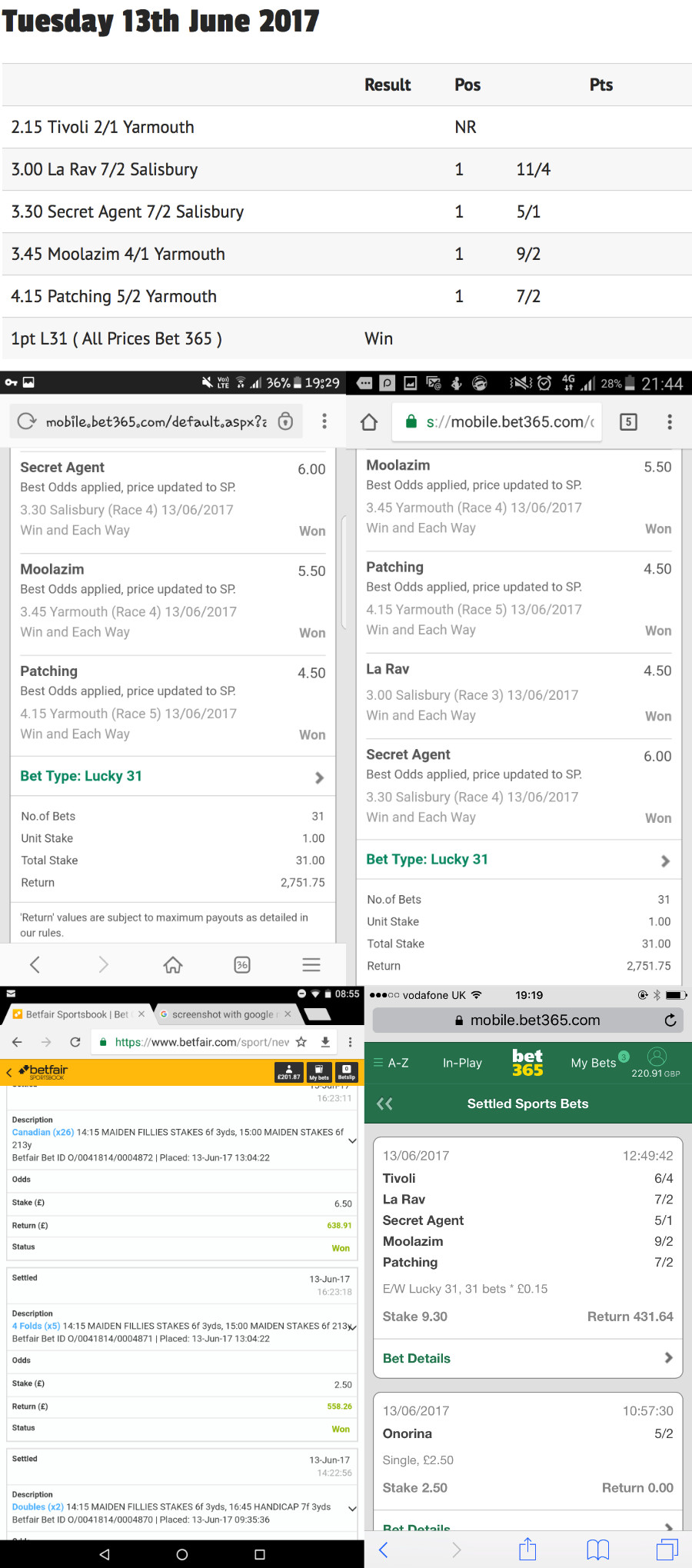 "That's impressive. Just goes to show that even a recreational, small time punter can win a jackpot."
Eddie
How about 2,465.80 points on 6th June 2019...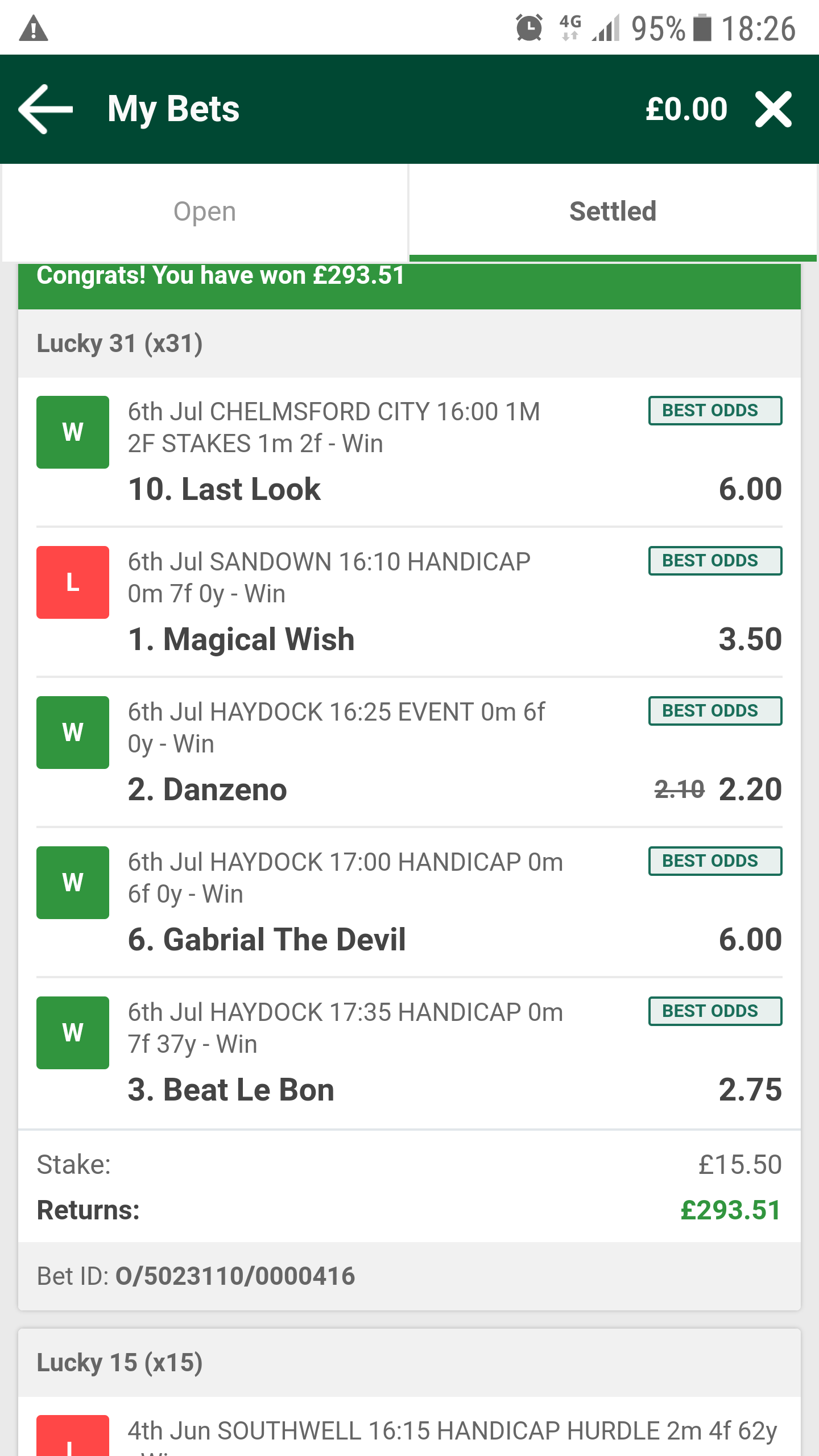 Superb!!! Lifted £300 from paddy power today cheers lads.
I missed the first bet. But got the rest on a lucky 31.
Cheers jackpot is coming... thanks again
John
Your Daily Racing Fix!
My formula delivers ether a Lucky 15, Lucky 31 or Lucky 64 bet most days of the racing week! Remember, these fun multiple bets can deliver big money when we strike!!!
I spend around 2-3 hours studying every day and the selections are usually available by 12pm midday.
OK All This Sounds Great But How Much Is It To Join?
I'm So Happy!
Great Value For Money! The guys at BetFan have told me that as this is as speciality service it can be offered at a fantastic price.
Join Super Luck 15 Today!
Don't delay! Click the membership option that suits you.
Best Value
Price Slashed
Monthly
Renews every 28 days at £42.00.
Next Payment due 23rd Jul 22
You can cancel at any time.
Best Value
Price Slashed
Quarterly
Renews every 90 days at £118.00.
Next Payment due 23rd Sep 22
You can cancel at any time.
Best Value
Price Slashed
6 Monthly
Renews every 6 months at £200.00.
Next Payment due 25th Dec 22
You can cancel at any time.
Please Note: All prices are exclusive of VAT. Purchases made from EU countries will be charged VAT at the relevant rate.
Thank you for your interest Super Lucky 15. I look forward to welcoming you aboard very soon.