NOW FOR SOMETHING COMPLETELY DIFFERENT... LET'S SEE HOW GOOD ARTIFICIAL INTELLIGENCE REALLY CAN BE AGAINST THE BEST OF THE BEST... THE CHAMPIONS OF TIPSTERS.
Welcome to PRO X, my name is Charles and I was introduced to sports betting around 20 years ago. Like most the big, televised events grab your attention, along with corporate invites to Royal Ascot, Goodwood, and so on to give you an exciting day out.
I'd say the moment sports betting become something more than just a good day out, was the moment a client requested I head a team to evaluate probability and outcome within sporting sectors. Maybe at this point, I should point out I have a Ph.D. in Artificial Intelligence, M.Sc. It was a broad project, but one that interested me greatly the more I delved into Horse Racing.
It was during a conversation at a big Horse Racing event, the discussion turned to "chance" and the probability of predicting the next winner. Was it possible to predict the winner from the race card? Which at that point I already knew the answer.
For the last 5 years, I've been evaluating and fine-tuning multiple algorithms, with a means to process this mass of data with a true AI (Artificial Intelligence).
The key ingredient to my success has to be research, data, evaluation and sheer persistence.
Can I remember some of the mistakes I made when I first started betting?
Strange as it might seem, the first mistake was to assume that the greater the data resources the greater the accuracy. The next mistake, bet selections. I've been able to select many times the winner of every race in the race card, but this requires multiple selections and combinations and would not be suitable for the average Horse Racing enthusiast.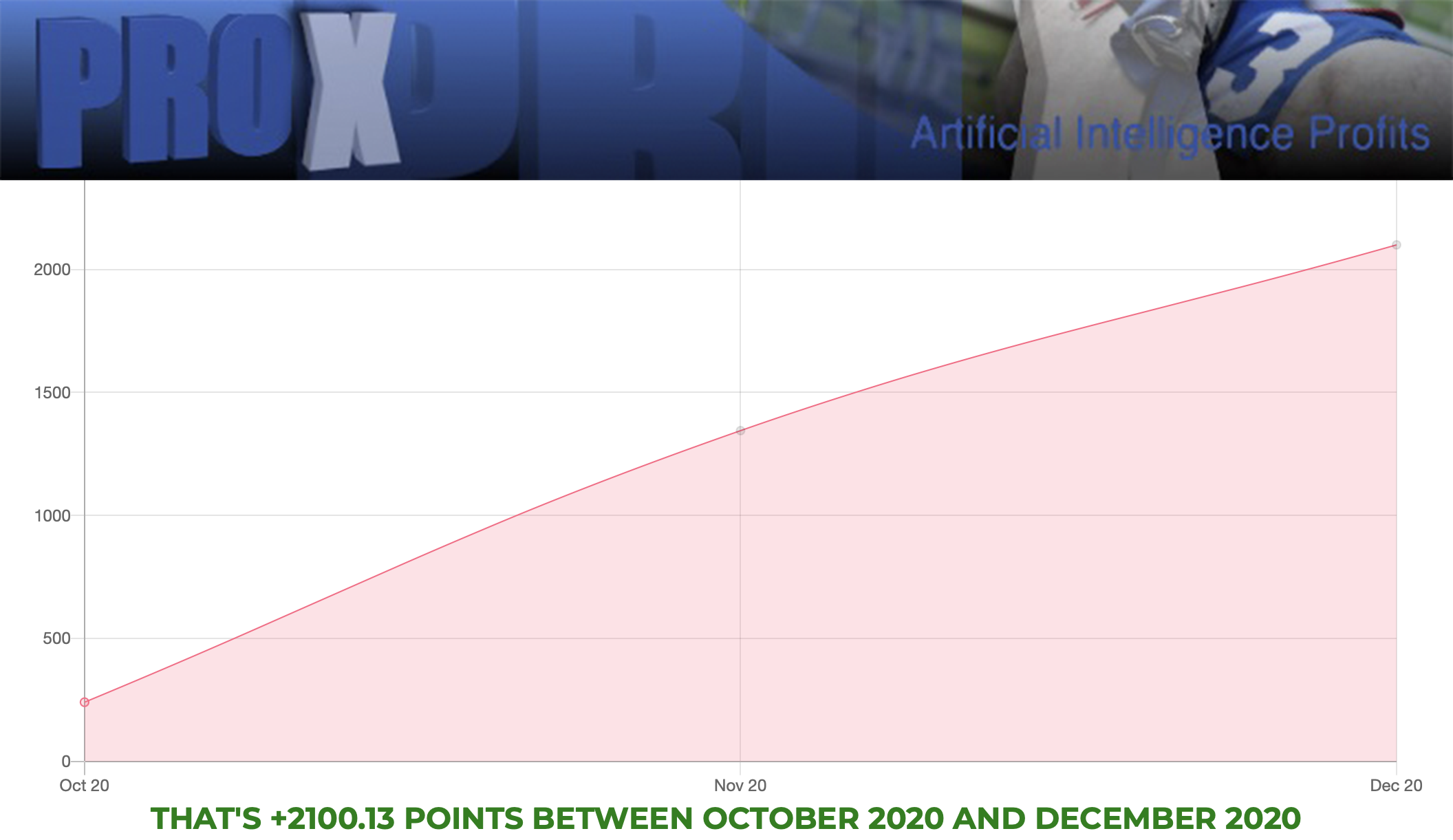 Do I specialise in specific betting markets?
Continuing from the previous question, and one of the reasons I decided to proof Pro X through BetFan. Is to evaluate what would best suit the client base. I've proofed Pro X with three basic strategies, win or e/w singles, win or e/w doubles, and occasionally e/w trebles.
Ultimately I've created this Ai to prove a point that Ai can indeed predict Horse Racing winners!
Proving it can be done and allowing others to profit can't be a bad thing.
How active is the tipping service?
Every day is possible, if we have a race meeting then we have a data source. I'd say the norm will range from two to five singles, four to ten doubles. This can be adjusted to suit, increase the profit parameters and more tips/selections will be selected.
My moment of glory is the Eureka moment, the one day that all my hard work paid off. The Ai selected all six winners from the race card and did the same thing the next day. 24hrs of magic, and one that I'm very glad I backed both days.
Finally with so many tipster services available why should punters seriously consider joining PRO X?
Well, for something completely different! Let's see how good Ai really can be against the best of the best, the champions of tipsters.
Here are your subscription options:
28 Days Membership is £60.00
90 Days Membership is £169.00
180 Days Membership is £286.00
Best Value
Price Slashed
Monthly
Renews every 28 Days at £60.00.
Next Payment due 30th Jun 23
You can cancel at any time.
Best Value
Price Slashed
Quarterly
Renews every 90 Days at £169.00.
Next Payment due 31st Aug 23
You can cancel at any time.
Best Value
Price Slashed
6 Monthly
Renews every 180 Days at £286.00.
Next Payment due 29th Nov 23
You can cancel at any time.
Please Note: All prices are exclusive of VAT. Purchases made from EU countries will be charged VAT at the relevant rate.