I have been a Horse Racing fan since a young age and a I've seen it all. In fact, my passion for the sport of kings has given me a fantastic lifestyle that would be envied by many a racing fan.
That's not said to impress you, it's said to inform you that it really is possible to win at the races! If and only if you have the right contacts and information at hand!
I first gained an interest in horse racing when I was a young lad. I remember watching the racing with my family and enjoying the excitement of trying to find the winners.
Not many winners back then but I did fall in love with horse racing in a very big way, it was amazing fun!
Over time I developed an increasing knowledge and understanding of the sport of kings and developed my own private strategies of identifying false favourites, long shots with a decent chance and jockey/trainer trends. I soon began to identify with a high degree of accuracy opportunities for finding winning horses.
Years on these strategies combined with other important aspects such as course analysis, horse temperament and info from many contacts gained I now bet wisely with a great amount of confidence.
My knowledge is second to none and I've now decided to help others launch successful betting careers by joining OddsGod.
Note that I say betting career. This is very important, my mission is to give you long term and consistent profits with enough excitement for you to really enjoy being part of my unique betting venture. I say unique because as you'll soon see this isn't just another here today gone tomorrow tipping service. It's much deeper and I'm sure you'll agree that as a member you're ultimately part of something very special indeed.
Give membership a few months and I'm sure you'll be with me for a very long time indeed. My sole aim is to make your betting experience better!
With so much racing each day and important information circulating the only real way of succeeding as a punter is to have a very good network as well as a real genuine knowledge of the sport. This is the real "Success Secret" and if you can get in the know your betting success and profits will change forever.
As a OddsGod member you'll receive ROCK SOLID horse race betting advice.
What you need to know is that the very best "Information" comes from the experts who make a lot of money from betting, as such they wouldn't even consider setting up a tipping service. This ultimately means you'll never get the best and most consistent information. Well, not until now!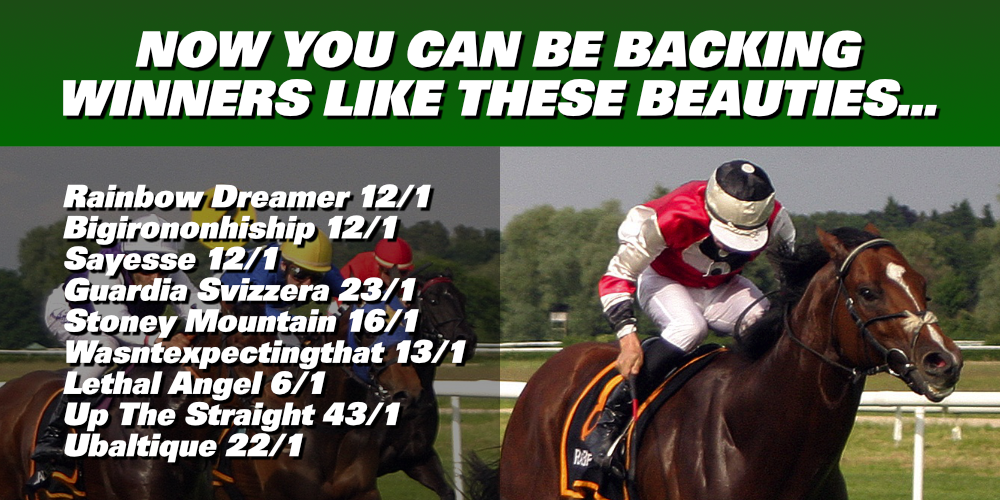 Join me and you'll get access to all my horse racing bets. Yes, all my bets! These are the horses I'm personally betting on. These are the essential daily bets that you need to be on!
I'll make the advice crystal clear to make your membership as user friendly as possible. If you want to be informed on the very best bets available each day then this is the club to join, but you must act fast. The bets will only be shared with a limited audience to reduce too much attention.
It doesn't matter whether you're an experienced investor or a casual punter my service will certainly boost your chances of making extra profits on a regular basis.
Here's A Dozen Reasons To Join OddsGod...
Membership will be limited to 150 so it's first come first served.
I only relay the best betting info.
The information I provide is the exact same bets I place.
You don't need any experience as I'll look after both pros and novices.
My service gives you access to the best bets of pro punters.
You'll only spend a few minutes a day placing bets.
Top Win or Each Way bets.
Your passion for horse race betting can potentially become a great new income.
It's a great opportunity to profit from an exciting sporting interest.
It's about time you saw a share of the millions of £££'s being won!
Advice will be available online and sent by email well before the off.
Membership is exceptionally low cost especially so if you join for 6 months!
Now Is The Time To Join OddsGod!
When it comes to making horse racing profits it's all about having the edge, be it over the bookie or your betting exchange competition! Get the edge today by joining OddsGod!
After joining I'll send you a welcome email with details of the service plus a betting bank and staking plan for making maximum profits from my selections.
Don't delay! Join me today using one of the buttons below...
Best Value
Price Slashed
Monthly
Renews every 28 days at £45.00.
Next Payment due 12th Sep 22
You can cancel at any time.
Best Value
Price Slashed
Quarterly
Renews every 90 days at £126.00.
Next Payment due 13th Nov 22
You can cancel at any time.
Best Value
Price Slashed
6 Monthly
Renews every 6 months at £214.00.
Next Payment due 15th Feb 23
You can cancel at any time.
Please Note: All prices are exclusive of VAT. Purchases made from EU countries will be charged VAT at the relevant rate.