Let's face it, finding winners in greyhound racing is hard. There are so many things that you need to know in order to pick that winning dog.
I know firsthand how sad it is watching yourself lose more often than you win.
But let me ask you something... what if you could actually win far more often than you lose?
I'M GOING TO SHOW YOU HOW TO DO EXACTLY THAT TODAY!
So, who do you think wins in dog betting? Who's the one that makes the most money?
These people make so much money that they can even afford to lose big and still remain on top.
They don't have to worry about who wins each race because at the end of each month they're usually on top.
It's like going to a casino... do you think that the casino really cares if you win or lose?
Not at all, why?
Because no matter what they're going to be in profit in the end, and the same is true in dog racing as well.
In dog racing you should think of the bookie as being the same as the "house" in the casino.
They're the ones that get paid every time someone bets on a losing dog, and let's face it, most dogs lose far more often than they win.
The bookies are the ones laughing their way to the bank while everyone else is making fool bets and tearing their hair out every time their bets lose.
But let me ask you something...
What If YOU Could Be The Bookie And Be The One That's Making All The Money?
Up until now almost every betting system out there teaches you how to give your money over to the bookies instead of taking it from them.
I'm sure you've seen this over and over again, I know that I have.
If you're anything like me, you've tried a lot of systems and while some might put you ahead for a little while, at the end of the day they all leave you behind, feeling used, abused, and worst of all completely broke.
The problem is that there aren't many who know how to be the one that's making all the money, but I'm going to teach you EXACTLY how to do just that!
But first, let me tell you a little bit about myself...
I'm the type of person who's a bit more cautious. While I've been into dog racing for along time following almost every dog as closely as I could, I always thought of betting as a losing game.
This meant it was years until I actually started making any serious bets. And honestly, I'm happy with that decision.
Why?
Well I certainly didn't win any money not betting, but I didn't lose any either. The reality is most punters lose their money. There are only a few people who end up taking it all.
I finally decided to try my luck and give it a shot. I like math, and am lucky to be good at it, so I figured I had a good chance of being successful.
Of course, like most bettors I ended up losing money when the dogs I bet on lost their races unexpectedly.
There was nothing I could do, and I tried everything. I kept losing and felt totally helpless sitting and watching my dog fall behind and slow down as another dog turned on the speed.
It was like watching my bank account being drained with every race that took place.
I think all punters go through this painful process at one point or another. I certainly did, so I know exactly how you feel.
Eventually though I created a strategy that started to make me profits. It was the best feeling in the world.
I was actually betting on the dogs and winning often enough for it to be very profitable.
But, there was a problem!
Bookies in the UK absolutely hate it when you win. They hate it so much that they limit the amount you can bet drastically.
I hadn't been winning long before the bookies put major restrictions on my betting accounts.
I felt broken down and beaten. I'd just become profitable and was now being prevented from trying to recoup some of my losses by the bookies who had taken my money to start with!
It felt like the entire system was rigged against me from the start.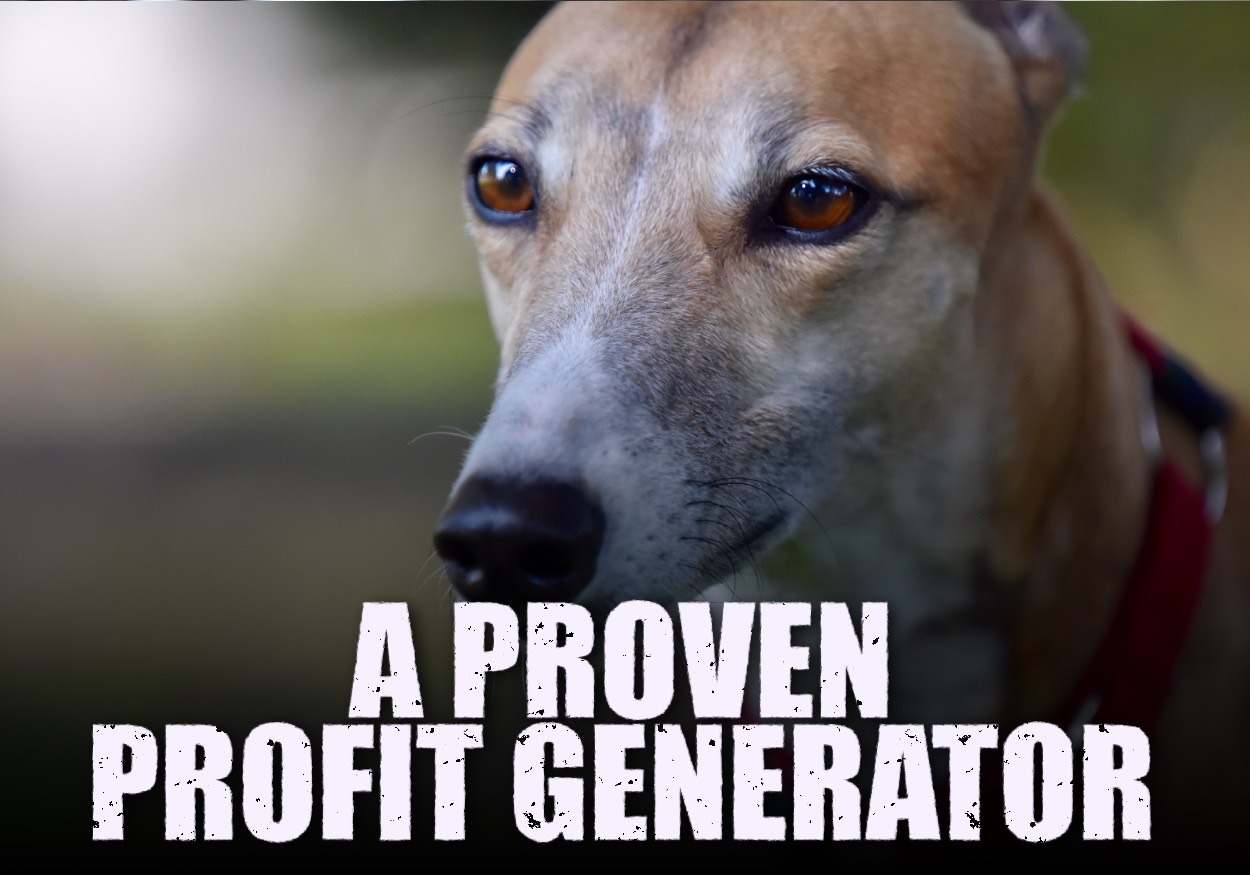 Then one day I learned how the REAL MONEY was made in dog race betting.
I came across a "lay betting", and let me tell you, this changed my life!
It totally changed the way I bet forever.
Lay betting is different to regular betting because instead of going to a bookie and betting on a dog to win, you can basically become the bookie. But, you don't have to allow people to bet on every dog, you can only allow bets on dogs that you think are going to lose!
When I discovered this it changed my whole idea of betting overnight.
While my strategy for finding winning dogs was very successful, the amount you can bet when you start winning is extremely limited. The bookies cut you off or limit you big time once they see that you're consistently winning.
They'll happily reward you for being a loser, but the moment you start winning they make it impossible to continue to bet.
This is what makes lay betting so superior to regular betting, you can make UNLIMITED profits!
And I'm going to tell you exactly how you can do it!
No Bookie Can Put A Roof On Your Income Because YOU ARE Acting As The Bookie...
Not only are you able to make more money faster, but the sky is the limit when it comes to how much you can make.
This makes lay betting by far the most superior form of betting in dog racing. Quite simply it puts YOU in control of how much profit you want to make.
Of course the question is... what kind of dogs do I make my lay bets on?
My process finds me dogs that struggle to win. But the key is to find dogs that not only struggle to win, but also are over-bet by the general public. And...
...I have many methods for doing this, all of which you're going to benefit from.
That being said, let's take a minute to talk about my results.
I want you to know exactly what results you can also get.
With regular betting you can hope to get a 20% strike rate at best, and honestly that's a fantastic strike rate.
But me? I'm getting a super strike rate!
When you're regularly winning the most of your bets, and with no limit to how much you can bet, you would be amazed at how quickly your bankroll increases!
Before you know it, even if you're starting with a low betting bank, you can be betting full-time.
Working a job is hard work and, let's face it, who really wants to do it. Betting for a living is not only much easier, it's also much more fun.
It's what I do and since you'll be betting on all the same dogs as me, it's what you'll soon be doing for a great income as well.
For the first time ever I'm going to help you by sharing with you the exact same dogs that I'm betting on. This means that...
You Can Get Similar Results As Me!
Right now you need to ask yourself...
Would you like to win most of your bets, starting right now?
Would you like to enjoy regular monthly profits yourself, without any real work?
Would you like to be able to enjoy dog racing, knowing you will usually be in profit at the end of the month?
Would you like to make a lavish second income, just from lay betting on Greyhounds?
If you answered YES to any of these questions then don't waste one more penny on trying to find winners. Let me help you generate the second income you've always dreamed of!
I make a tidy profit betting on these selections and so I'm offering very limited spaces to join me. If you can no longer see the join buttons below then I'm sorry, there's currently no space available. But if you can, then you're in luck, make sure that you don't miss this opportunity by taking it right now.
Here are your subscription options:
28 Days Membership is £30.00
90 Days Membership is £84.00
180 Days Membership is £143.00
Best Value
Price Slashed
Monthly
Renews every 28 Days at £30.00.
Next Payment due 25th Nov 21
You can cancel at any time.
Best Value
Price Slashed
Quarterly
Renews every 90 Days at £84.00.
Next Payment due 26th Jan 22
You can cancel at any time.
Best Value
Price Slashed
6 Monthly
Renews every 180 Days at £143.00.
Next Payment due 26th Apr 22
You can cancel at any time.
Please Note: All prices are exclusive of VAT. Purchases made from EU countries will be charged VAT at the relevant rate.